Video making can be time consuming. Also, not everyone has it as their strong point. It can be expensive to get video equipments, set up a team, but what of if you could just input a script to a tool and it creates a high quality video for you? This is what AI video generators are capable of doing. They use artificial intelligence to create stunning video that you can put up as a marketing ad or on social media. In this guide, we explore the best AI video generators…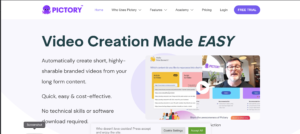 Pictory is one of the best AI video tools. It requires you to upload the script of your videos and then it searches its library of royalty-free images and videos. The AI tool is user-friendly and helps you achieve the goal of creating engaging content. You will be able to create videos that convey the message of your script. Clips related to your script are what Pictory will intelligently curate to make a stunning video. Pictory also takes your long-duration video content and breaks it down into smaller videos. You can either use one of their AI auto-generated voices to read your script or record your own voice-over. Overall, it is an impressive tool.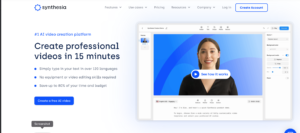 Synthesia is another AI video generator that works well. This AI video generator uses AI avatars in videos. As a matter of fact, Synthesia is used by a bunch of big companies like Google, BBC, and Nike. You don't need to have expensive equipment or filming location, you can use the over 70 diverse AI avatars. You can even create your own avatar. The tool has several templates, a media library, and more. Just select an avatar and voice over, and a quality video will be created within a few minutes. The tool boasts of over 50 templates, and you can get custom made templates too. Synthesis has professional voiceovers, which you can easily edit with a click.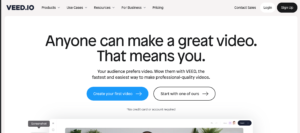 Another video-generating tool is Veed.io. This tool automatically generates videos based on the content you input into it, and it doesn't require any complex input. This content can range from text, images, or footage. Veed.io boasts of many templates that you can use for your videos. Templates are categorised based on industry, preferences, and style. You can also customise the video it creates to your preference. Veed.io doesn't require that you have any design skills. You can get an AI video in no time. The video generator is perfect for any kind of business, as it can create video for any style or industry. What's more? Veed.io creates videos of high quality.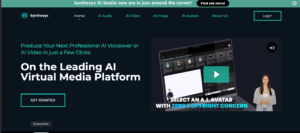 Synthesys is also one of the best AI video makers. First, it has an affordable price tag, and then it boasts of really impressive features. The "Human Studio" plan for example gives you a lot of value for the money. You get a good number of avatars, and voices. Not only that, it allows you to create unlimited videos. The tool is very easy to use. Also, there is step-by-step training that takes you through the process of creating videos. It however comes with some drawbacks. The expressions of the avatars can sometimes not follow what is being said. If you need a video for your brand, or marketing campaign, this tool is worth trying out.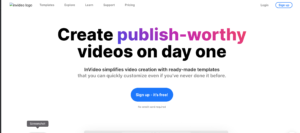 The last but not the least AI-powered video generator is InVideo. InVideo can create quality videos from texts. You can even make use of the templates that are InVideo which are professionally designed. You'll need to input your text, select the template that is best for your video. You can create various kinds of videos such as video ads, slideshows, presentations, memes, and more. You can even customise things. After the video has been created, you can share it to your audience easily.
Rounding Up…
You don't have to spend so much to create a video. By just using one of these video creators, your ideas can come to life. We hope you found this guide helpful? If you did, kindly leave a comment, and don't forget to share…